News and Commentary
In the following articles and event summaries, Dr. Taylor Haynes offers his opinions, insights and observations on important events and issues in the news.
Monday, August 13, 2018 11:05 AM
Water attorney Harriet Hageman recently approached the Casper City Council with a proposal to join a Colorado-Wyoming coalition of water users, which now includes Torrington and Cheyenne, in a study of the feasibility of appropriating 35,000 acre feet of Green River water. Aaron Million has also approached these cities for support of his version of the project.

If successful, this project would usher in a new reality in water rights and use, with management driven from the national level down through direct administration by federal agencies. State water law, state water ownership, and individual water rights, as we know them, would be obliterated. The combination of high project supply costs with the introduction of speculation in the water market would result in declining water use, attendant escalating costs, and a self-feeding spiral of economic and societal impacts.


---
Sunday, August 12, 2018 10:48 AM
Harrington: Haynes poses threat to the Wyoming powers that be
By Bradley Harrington
"This whole thing has been an attack by the Cheyenne swamp; it seems as though Wyoming has its own Deep State out to perpetuate itself." – Taylor Haynes, Aug. 7, 2018
If there's been an issue in Wyoming gubernatorial politics that's roiled the waters more than the Taylor Haynes residency controversy, I sure can't think of it.
But first, let me make full disclosure: I support Haynes' run for governor, and it is my sincere desire that he be our next governor.

That position, however, does not blind me to the facts – and, for those who've been on Mars for the last several months, let's review the timeline:
On June 25, "An anonymous email – signed by 'Anonymous Citizens of the State of Wyoming' – was sent to the Laramie Boomerang ... from a protonmail.com address, an encrypted email service. The email said Haynes "has misrepresented his residency in order to meet the qualifications for elected office." ("Haynes: Residency accusation a pack of lies," www.laramieboomerang.com, July 10.) Subsequent information makes it clear that this email was sent to all major Wyoming news outlets.
On July 5, WyoFile breaks the following news story: "A complaint has been filed against gubernatorial candidate Dr. Taylor Haynes ... Records suggest the complaint could involve the legitimacy of Haynes' claim of Wyoming residency in his filing for his current campaign for governor." ("Gubernatorial candidate Taylor Haynes' residency questioned," www.wyofile.com.) The core of the complaint is that Haynes' ranch – the Thunderbasin Land, Livestock and Investment Company – straddles the border of Wyoming and Colorado, with the actual residence buildings on the Colorado side.
Two days later, in a video posted to his website, Haynes calls the accusations "a pack of lies" and states that "he has lived, worked and paid taxes in Wyoming for nearly 35 years with no residence in any other state." On July 9, Ed Buchanan, the appointed Wyoming secretary of state who quit gubernatorial candidate Harriet Hageman's campaign to accept that job back in May, makes it known that both his and Wyoming Attorney General Peter Michael's offices are reviewing the matter.
On July 21, the Wyoming secretary of state and attorney general's offices declare that "Haynes is not eligible to run for governor," that the "Republican candidate's ranch home lies in Colorado," and that they are seeking a court ruling "ordering Dr. Taylor Haynes to withdraw from the race or otherwise cease his campaign." ("Wyoming officials: Haynes 'not eligible' to be governor," WTE, July 22.) A hearing is set for Aug. 1 and a trial date for Aug. 7.
On Aug. 3, Laramie County District Judge Thomas Campbell throws out the entire ball of wax, declaring that "it is impractical and unfair to the Defendant to bypass the Wyoming Rules of Civil Procedure entirely and compress the litigation process into less than a three-week period" – as plaintiff Buchanan had been demanding. Campbell also notes that "at this juncture, the affidavits and the parties' assertions might be sufficient for the court to doubt the likelihood that the Plaintiff will prevail on the merits." (Docket No. 190-183.)
So, Dear Readers, just exactly what is going on here? An "anonymous" source, completely devoid of the guts to stand up and make these accusations in public, argues that Haynes' ranch buildings are on the Colorado side of the border – and that this fact should invalidate Haynes' gubernatorial campaign.

And yet, as Haynes has stated repeatedly, his ranch, addressed at 795 Bull Mountain Road, Laramie, WY, 82070, has ALWAYS been considered as a Wyoming address.
To verify this, I contacted Ruth Rowe, the individual who sold Haynes the ranch and who lived at that property for about 20 years prior to that sale. When asked that question directly, she said: "My address has always been 795 Bull Mountain Road in Laramie, Wyoming. It was printed on my vehicle registrations, my driver's license, my tax forms, you name it."
So the question then naturally arises: Since 795 Bull Mountain Road has ALWAYS been considered by both Colorado and Wyoming as a Laramie address, what would motivate everyone to start thinking differently about it now? The fact that it's now owned by Taylor Haynes?
Powerful political forces and people, obviously, are out to ensure that Haynes does not become Wyoming's next governor. And, when considering the fundamental planks of Haynes' campaign – promoting our individual liberties, coupled with a greatly reduced federal involvement in our state – it doesn't take a rocket scientist to figure out why. Haynes poses a threat to the powers that be that they find intolerable.
Bradley Harrington is a computer technician and a writer who lives in Cheyenne. Email: bradhgt1776@gmail.com.
---
Monday, August 6, 2018 9:39 AM
Buchanan's Effort to Stop Haynes' Campaign Fails
We read with great interest Secretary of State Ed Buchanan's press release concerning Dr. Haynes' victory in a hearing initiated by Buchanan. Buchanan claimed Haynes was ineligible to run for the Governor's seat based on anonymous reports that Haynes hadn't been a resident of Wyoming for the past five years.
In his statement, Buchanan attempted to justify his failure in court by implying Dr. Haynes should have forgone his right to Due Process and suspended his campaign. (Read Secretary of State's Press Release)
Buchanan, the appointed (not yet elected) Secretary of State, was the Campaign Chairman for Harriet Hageman until March 2018, and his very public and negative handling of this case smacks of political favoritism.
The ruling by Judge Campbell denied Buchanan's request for an injunction which would have stopped Dr. Haynes' campaign without allowing him the benefit of a trial. The court ruled that such an injunction has to be based on a "degree of certainty, which is not present here." The ruling also stated that it was "impractical and unfair" to bypass Dr. Haynes' right to due process.
The judge further said that based on the information reviewed by the court regarding Dr. Haynes' residency, the likelihood that the State would prevail and find Dr. Haynes to not be a resident of Wyoming is doubtful. (Read Judge Campbell's Ruling)
Dr. Haynes has stated that he is a resident of Wyoming, and has been for 35 years, and the attempts to stop his campaign with unverified claims to the contrary are purely political.
If the Secretary of State pursues the case, or continues to issue biased and negative statements, it would seem his only motivation would be the political advancement of his chosen candidate, to the detriment of both Dr. Haynes' campaign and the Wyoming taxpayers who bear the cost of the State's legal proceedings.
It's time to put an end to insider politics.
---
Saturday, August 4, 2018 5:52 AM
Judge Rules in Haynes' Favor
Laramie, WY---
After weeks of speculation by the media concerning hi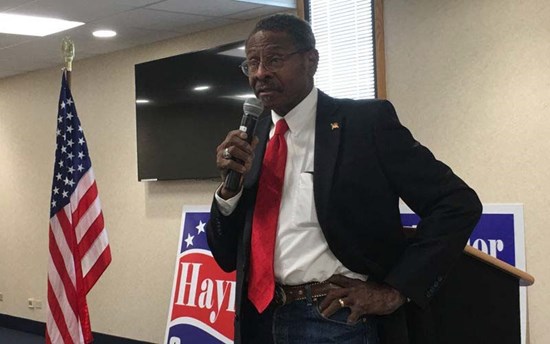 s eligibility to run for Governor, Republican candidate Dr. Taylor Haynes, announced that the court has ruled in his favor and he will continue his campaign.
This came after Secretary of State Ed Buchanan, who is the former campaign manager for Harriet Hageman, and Attorney General Peter Michael asked the court to issue an injunction to suspend Haynes' campaign. They issued a press release on July 24th stating that Dr. Haynes was not eligible to run for Governor, asserting that he had not been a resident of the state continuously for the past five years. "This was a politically motivated action based on information they received from an unverified anonymous source." Haynes said, "I have been a resident of Wyoming for nearly 35 years."
Today, District Judge Thomas Campbell, denied Buchanan and Michael's request for an injunction against Haynes. Dr. Haynes expressed satisfaction with the ruling. "Our supporters who understood this was a political attack have stuck with us during this process, but unfortunately some people may have been confused by the reports and cast early votes for a different candidate."
Haynes stated, "We have not stopped campaigning during all the disruption and we will continue pressing hard to get the word out that I am eligible to be Governor of the great state of Wyoming and all this nonsense about residency has been an attempt to confuse voters." The State could still appeal the decision, however, Judge Campbell stated in his ruling that the evidence presented to the court may be sufficient to doubt the likelihood that the state would prevail.
Haynes' is a constitutionalist who has been active in leadership positions in many local, statewide and national organizations, including twelve years on the University of Wyoming Board of Trustees. He has been a prominent member of the Republican Party, currently serving as Precinct Chair of District 45-2 Albany County. He served as a delegate to the Republican National Convention in 2016 where Donald J. Trump was nominated.
People throughout the Wyoming can find information about Dr. Haynes' activities in their community by visiting his website at www.HaynesForWyoming.com.
Read Judge Campbell's Ruling here:
/images/14620/Judge Campbell Ruling 8.3.18.pdf
---
Saturday, July 21, 2018 4:01 PM
Republican candidate for Governor, Dr. Taylor Haynes of Laramie, responded today to reports by several media outlets claiming that he is not a Wyoming resident. "This politically motivated attack has been designed by its perpetrators to confuse voters and is well-timed to coincide with the commencement of early voting." Haynes said. "I have lived in Wyoming for nearly 35 years and during that entire time have not had a residential address in any other state."
---
Sunday, July 15, 2018 12:00 AM
"The powers not delegated to the United States by the Constitution, nor prohibited by it to the states, are reserved to the states respectively, or to the people." – James Madison, "The Tenth Amendment of the Bill of Rights," 1791
I evaluate political candidates according to one simple standard: Their commitment to the principles of individual liberty. And when it comes to the Wyoming governor's race, there's only one candidate worth talking about in that regard: Taylor Haynes.
I've already discussed a few of the problems with the other five candidates vying for the Republican gubernatorial nomination – positional inconsistencies, slopping at the public trough and inabilities to understand just what true constitutional government consists of, to name a few ("Most gubernatorial aspirers don't clear the liberty hurdle," WTE, July 8).

Haynes, however, suffers from none of those flaws – and when he says he intends to "promote Wyoming's sovereignty and the absolute need to establish a constitutional relationship with the federal government," he's not kidding.
Moreover, as I've discussed before ("Fedzilla's land grabs, Part I and Part II," WTE, July 29 and Aug. 5, 2016), from the time of the Second Continental Congress' Northwest Ordinance (ratified in 1787, and reaffirmed by the U.S. Congress in 1789), that means all new states were to be admitted to the Union on an "equal footing with the original States in all respects whatever."
Which means: "Since the original states maintained control of their lands even after the founding (with the exceptions enumerated in the Enclave Clause), it therefore follows that any new state, once admitted to the Union, should have its previously federally managed territories turned over to it as well." ("Part II.")
Yet, this never happened, either here or in any other Western state – and, to this day, the federal government "manages" 48.4 percent of Wyoming.
This has been Wyoming's biggest problem since the beginning – and, as Haynes told me, this is an issue of "federal interference in our individual liberty, in our schools and in managing our natural resources ... They control those resources and our mineral wealth."
And the implications? "Let's say I come into your business and take over half of it," Haynes said. "I take half of your income and half of your wealth. And then I also restrict what you can do in your own yard. So, if I do that, how free are you?"
How free, indeed? Not very free at all. And yet, of all the candidates running, Haynes is the only one who recognizes these facts and seeks to correct them.
"I'm not against the federal government, per se," Haynes stressed. "But they need to respect the bright line of jurisdiction that's strong in the Constitution – and they need to act only on their enumerated powers."
Regarding the rest of his Republican competitors, however, Haynes continued, "when it comes to the test of enforcing the Constitution, the other candidates back down. They back down on the Second Amendment at the University of Wyoming, and they all express that they will not take over management of the federal lands."

"Hageman claims to differ in that respect," I said.
"Well, she doesn't," Haynes replied. "She wants to ask for permission to manage a million acres. So, I'm running your company and I've taken over 48.4 percent of it. And then you come to me, hat in hand, to ask for permission to manage 1 percent of your own company? Really?"
And that, said Haynes, is what brought him to decide to run again for the seat he ran for back in both 2010 and 2014: "I feel like I'm trapped, and I had to run one more time, because of that – because there's nobody else in this race who's truly constitutional whatsoever."
And, it bears mentioning, Haynes had a quite respectable showing back in 2014: He earned 31,532 votes to Matt Mead's 53,673 – and that was against an incumbent governor, and a fairly popular one at that, even with contender Cindy Hill splitting the "hard" conservative vote (she cleared 12,464).
Well, it's a safe bet the people who voted for Haynes back then will vote for him again – and, with little more than statist political hacks standing in his way this time, Haynes is well-poised to clear the votes he needs to put Wyoming on the path to the sovereignty and prosperity she deserves.
And, Dear Readers, as I survey the mess the "establishment" has made of Wyoming over the years, it's also something she NEEDS – now more than ever.
Bradley Harrington is a computer technician and a writer who lives in Cheyenne. Email: bradhgt1776@gmail.com
---
Saturday, July 7, 2018 9:50 AM
Dr. Haynes Addresses Question of Residency
In this video, Dr. Haynes addresses the anonymous attack concerning his residency in Wyoming. He has lived, worked and paid taxes in Wyoming for nearly 35 years with no residence in any other state during that time.
This unsubstantiated claim is clearly an attempt to confuse voters.
---
Wednesday, June 13, 2018 12:00 AM
Candidates like Laramie physician Taylor Haynes came out firing when asked how they'd fix Wyoming's finances without increasing royalties on extractive industries. "All new wealth," he said, "is going to come out of the ground."

"When we take over management of all federal lands we're going to open this whole deal up," Haynes told a ballroom, filled with convention attendees, at Snow King Hotel. "There will be more mining, and there will be more logging. There will be more natural resource revenue coming into our state. We don't need more taxes; we need better management."
---
Saturday, June 2, 2018 12:00 AM
Dr. Haynes hosted the Target Shoot Competition this past weekend at the Rawlins Outdoor Shooting Range, drawing participants from around the state.
---
Monday, May 14, 2018 12:08 PM
Taylor Haynes seeks to limit federal control and empower state and local governments.
---
Wednesday, May 9, 2018 5:21 AM
Importance of Country of Origin Labeling for Food Safety
More than 1.1 million tons of foreign beef is imported into the United States each year. Multinational corporations aren't required to use clear labels and therefore they import more beef from more foreign countries, including countries with questionable food safety practices.
The USDA's current regulations allow corporations that import beef and pork and other products into the United States to label that meat "Product of USA." As a result, without Country of Origin Labeling (COOL), we don't know where our beef comes from or how safe it is.
---
Thursday, May 3, 2018 12:00 AM
---
Thursday, April 26, 2018 3:01 PM
When asked what differentiates him from other candidates in the race for Governor of Wyoming, Dr. Taylor Haynes responded, "First, I'm not a lawyer," which garnered great applause. Haynes, a Republican, described himself as a constitutionalist conservative and states that he is "making the Constitution and state sovereignty a safe platform."
He observed that his competitors have been "singing off my song sheet," as they are also talking about state's rights and other the Constitution, "but they don't have my voice."
Haynes shared that he is the best educated of the candidates and has the broadest experience in free market enterprise. He cited many state and national organizations he has worked with in leadership positions.
---
Thursday, April 19, 2018 11:53 AM
A constitutionalist conservative from Albany County is the latest to join the race to be Wyoming's next governor.
---
Friday, April 6, 2018 3:23 PM
2018 Tax Pledge
I have studied the Wyoming budget, income streams and spending practices carefully for the past few years. Serving two terms on the UW Board of Trustees provided great insight into the budgeting relationship between the state agencies and the Governor, and thus, I've developed a clear understanding of our budget.
The 2018-2020 biennial spending plan is very frustrating. (When drunken Sailors run out of money they quit spending!) The people of Wyoming have spoken loudly and clearly that they are not interested in more or higher taxes. We cannot tax our way to prosperity.
I can pledge the following: I will not sign, and will veto, any bill that will raise any tax, or create any new tax, or support any new revenue stream having the effect of a tax. This pledge is good for my entire term as Governor of Wyoming.
You can see more about my pledge and the economic reasons for it on the website of Sven Larson, author of the Wyoming Prosperity Project, and leading economists here in the state.
http://www.thewyomingprosperityproject.com/2018/03/the-state-of-wyoming-economy.html
---
Thursday, March 22, 2018 3:37 PM
Wyoming Deserves Fiscal Responsibility
Over the past few months I have been addressing the need for true fiscal responsibility in state government. But Wyoming citizens also deserve fiscal conservatism: being responsible means that no matter what improvements we make to the economy we do not spend more than we make. That is bad business. Some of the other candidates have mimicked my thoughts on this matter, but they shy away from real fiscal conservatism: which means that you solve the budget problem on the spending side, not the revenue side.
The people of Wyoming deserve more than hazy ambitions. They deserve concrete ideas that deliver results. I suggest two reasonable steps that should be taken immediately.
Unlike most other states, Wyoming does not have a strong audit process that compares what was spent with what was allocated. Under my watch this will take place, and I will use what other states have utilized to make this possible: a fully transparent, easy to understand account of every line item in the budget, so that everyone - not just budget experts - can track expenses and allocations. This will help us know exactly how much is appropriated, and how much is spent, on everything government is involved in.
I will also push hard to merge the revenue and appropriations committees. Instead of having one committee controlling spending and another monitoring revenue, Wyoming needs a budget committee that oversees both so that the two can be correlated at every step. Doing it otherwise is similar to going shopping for a new car without knowing what is in the bank.
These two steps are not complicated, but they provide results. And we need results over rhetoric. I'm proud to deliver for the people of Wyoming.
---
Saturday, March 3, 2018 4:25 PM
By Mathew McKay
mmckay@rawlinstimes.com
Carbon County residents received some early insight from a Republican candidate for governor during a public forum Thursday evening. Candidate Taylor Haynes took questions from the audience during the pubic forum and addressed topics dealing with the Wyoming State Penitentiary, education and the wilderness study areas at the Carbon County Fairgrounds Multiplex.
---
Sunday, February 25, 2018 8:36 AM
Opinion: Keeping Schools Safe
A recurring question I'm faced with as I travel the state, and one that has extra significance right now, is "what should we do to keep our schools safe?" The Park County School Board has been grappling with this question, and has put forth a proposal that would allow the teachers to carry concealed weapons on school grounds after receiving training.
The policy says, "An employee who receives approval by the Board to carry a firearm pursuant to this policy shall only fire his or her firearm if he or she reasonably perceives that his or her life, or the life or lives of others, are in imminent risk of death or serious bodily injury." I support the excellent efforts of Park County to keep their students safe!
Currently, there are eighteen states that allow adults to carry guns on school property with school permission.
Teachers who are willing and able to complete the training should be allowed to carry a concealed weapon. Of course the choice to do so belongs to the teacher. Teachers will know if they are comfortable with such a choice, and as I have said before in other areas, I trust our teachers to do the right thing for their students.
---
Monday, February 19, 2018 8:35 AM
Opinion: UW Science Initiative Building
In his proposed budget, governor Mead is supporting the release of $100 million dollars to begin construction on the Science Initiative Building at the University of Wyoming. Senator Eli Bebout has said that he will oppose the funding as it is "not the right time."
I served on the UW board of trustees for 12 years, and I support Senator Bebout's position on this issue completely. UW has faced $42 million in cuts to date. The staff and faculty have not had raises in years, and the President reports that they have slightly less than 400 filled positions since the decline. It is past time for the University of Wyoming to focus on people, not buildings.
A new science building will not make UW a tier 1 facility as Mead claims. Investing that money in faculty that deliver world shaping research, and in our students who are the future of this state, and in the staff that provide critical support, is the only responsible way to deliver that money to UW. Let me reiterate, great buildings do not make a great university, great minds do.
---
Sunday, February 18, 2018 8:27 AM
The most common reason given against assuming control of our federally managed lands is the claim that the state cannot afford them. The example used to promote this view is the growing cost of wildfire suppression. This claim ignores the central problem: mismanagement that has resulted in the
disastrous state we find our forests in. Anyone who has driven through our state has witnessed the pine beetle epidemic that plagues our forests. By systematically refusing to remove dead or dying timber the Forest Service has left our treasured forests at a tipping point.
---
Monday, February 12, 2018 4:22 PM
If ever there was a list of gubernatorial candidates who would strictly adhere to the Constitution, the list would be small. But joining Dr. Ron Paul is Dr. Taylor Haynes, who would like to see Wyoming succeed by giving people liberty.
Not even two weeks ago, Dr. Haynes did an interview with Glenn Woods from KGAB radio in Cheyenne, in which he said:
"The Constitution was weighing heavily and being lost and when I could see how the primary was going…I really wanted to keep that particular message out there. Because over the years starting in the late '80's pushing back on people like Bill Clinton…I could see that state sovereignty was an issue. If we were under the Constitution, we wouldn't have some of the problems we're facing in this very day."
---
Thursday, February 8, 2018 12:00 AM
Dr. Taylor Haynes, who is seeking the Republican nomination for governor, plans to speak at the Riverton Library this Friday.
---
Thursday, February 1, 2018 12:00 AM
---
Tuesday, January 23, 2018 12:00 AM
Taylor Haynes, who ran in 2014, will seek the Republican nomination for governor. Haynes, a Cheyenne rancher, businessman and retired surgeon, is running for office to promote Wyoming's sovereignty and the need to establish a constitutional relationship with the Federal Government.